Last November Philippe and I began the search for a new premises that would give us the opportunity to grow our businesses together.  A little over six months earlier Philippe had leased a small unit on the main square of a charming little town called Lisle-sur-Tarn.  He opened a bike shop offering bike rentals, wine tours, a repairs service and refurbished bikes.  Our plan had been to open a café vélo (a bike shop café) — where we could each ply our trade — but space was much too tight, even for Philippe's activities.  I was underemployed and increasingly restless.  We needed to move.
It felt serendipitous when, a week or so after we began looking, a premises came on the market in Gaillac, a town 12km away.  The heart of the local wine area, and with three weekly markets and a population three times that of Lisle-sur-Tarn, Gaillac felt much livelier while still being a quintessential 'country town'.  The building would need a bit of work to make it fit for purpose (a monumental understatement in retrospect), but Philippe was confident we were up to the task.  As is usually the way, everything takes longer than you might expect.  Finally, just as May was stretching into June, we became the official owners of 20 Rue des Frères Delga.
LA BONNE ECHAPPEE - MARK II
We'd become quite attached to the name of the old shop - La Bonne Echappée - so we're keeping it at the new location.  Those of you interested in road bike racing might be familiar with the cycle reference 'the good breakaway', but it can also be translated as 'the good escape', which I'm quite fond of!  I've decided to keep a photo diary of the renovation to remind myself of all the things that went awry, all the things that came right, the friends who pitched in, and the laughs along the way.  I've learned more about plaster board and water evacuation and extraction fans and – gulp! – French administration in the last couple of months than I even thought possible.  And we've barely even got started!  So here goes with the first instalment...
OH MON DIEU, WHAT HAVE WE DONE?!
20 Rue des Frères Delga is a long, narrow building wedged between a newly-opened opticians and a similarly long and narrow building that houses an evangelical church and some apartments.  It ought to be a dark space, but thanks to a large glass roof towards the back of the building it is flooded with light for most of the day.  It has had previous lives as an organic supermarket, a pizzeria and a catering outlet.  We heard that at one time it was a wine shop that opened for fifteen days and closed under mysterious circumstances.  I wish this building could talk.  I'm sure it has stories to tell.  We plan to have seating towards the front, the café counter and kitchen in the centre, and the bike workshop at the back.  (The building has two storeys above, but that's a story for another day!)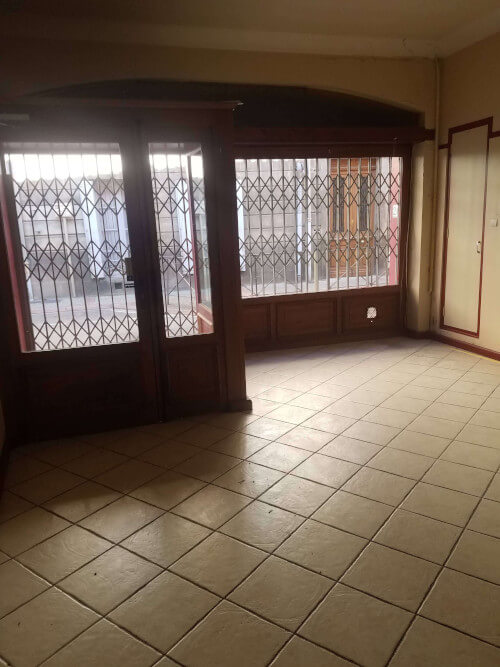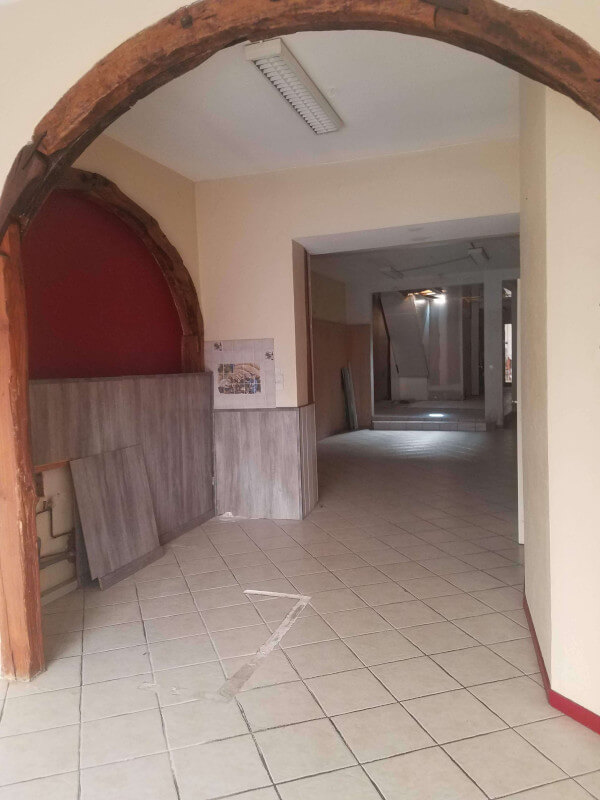 WHOSE IDEA WAS THIS?
We've knocked a few walls and even had to lower a floor at the back of the building, but we're finally out of the demolition phase. I have to remind myself that the mess is only temporary and that we haven't completely wrecked the place! To open up the space and to make it wheelchair accessible we've removed the archway (luckily it was only decorative, not structural), and we're moving the washroom from the right hand side of the arch to the back of the premises. Philippe has started putting up rails and fitting plaster boards (and dropping not-so-subtle hints about decoration - see photo below!), while I've been busy researching flooring, paint and light fittings.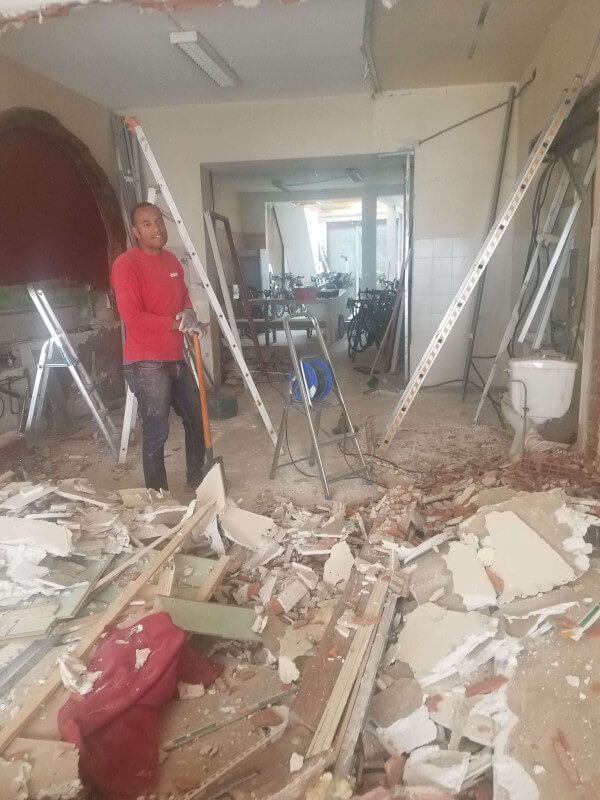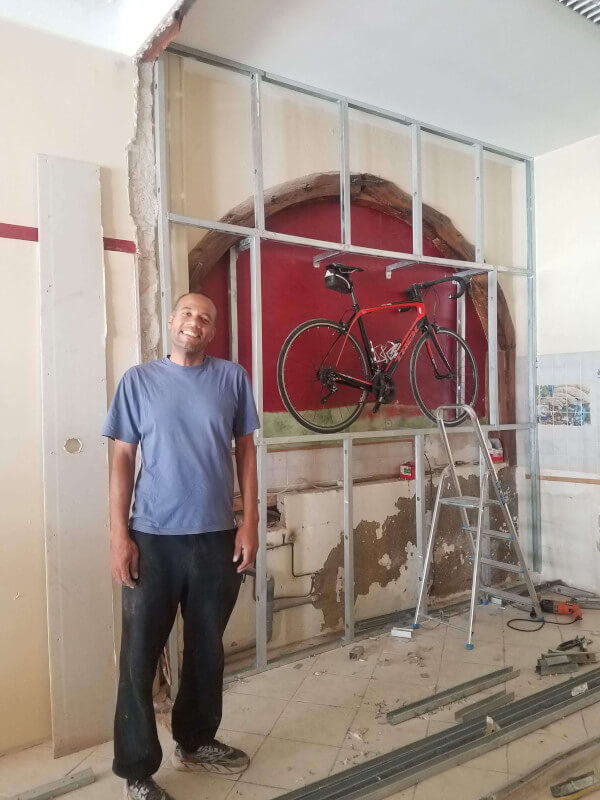 WELL, WELL, WELL...
One happy discovery was that of a beautiful brick-lined well. We'd known about the well, but as it was encased by a wall of thick concrete blocks we hadn't actually seen it. Our friend Nick did battle with the wall – thought by Philippe to have been built to withstand a nuclear apocalypse – until finally the beautiful pink bricks came into view. I have been equally delighted and terrified by its unveiling, and have found myself imploring anyone who goes into the building not to fall into the well.  I think I'm developing a twitch. Hopefully things will go back to normal when we find a nice glass covering for it.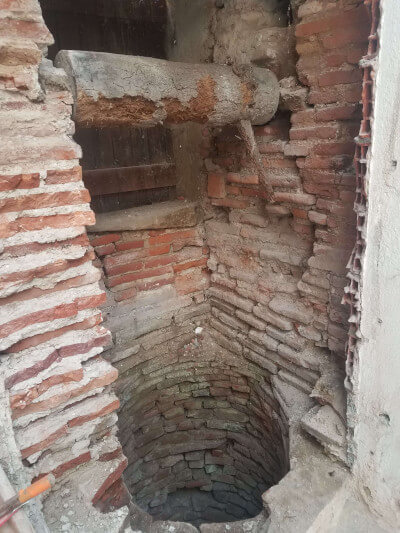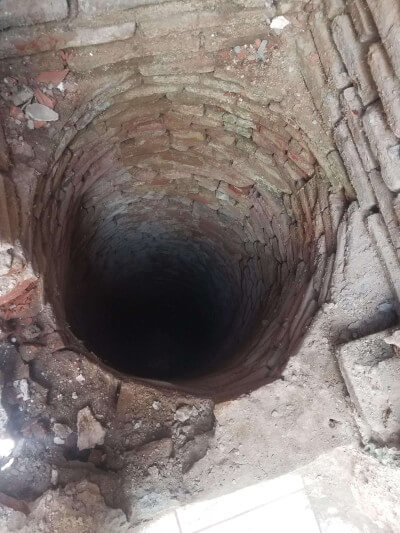 NEXT INSTALMENT COMING SOON...
Click to share this post!