The Légumerie is a vegan food business. We offer cooking demonstrations and workshops to individuals, groups and companies. We also work with restaurants and other food establishments to help them improve their plant-based food offering.
At the Légumerie, we celebrate vegetables, grains, pulses and legumes, and champion ethical and sustainable food production. Our passion for plant-based is born of a love for people, animals and the planet. We believe that by changing our approach to food we can reduce our destructive impact on the environment and open ourselves up to a whole new world of culinary possibilities.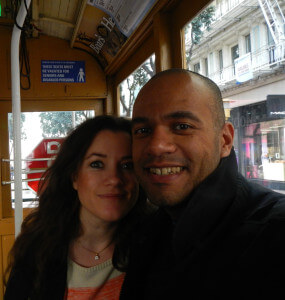 The Légumerie was founded in 2016 by Claire Duffy, a veg enthusiast keen to share with the world her love of creative, flavourful vegan cooking. She has a longstanding interest in environmental protection and social justice, and holds a master's degree in global food security.
Claire splits her time between her native Donegal in the north-west of Ireland, and France, where she lives with her partner, Philippe. They are currently in the process of renovating a building in Gaillac, a small town 50 km northeast of Toulouse, and look forward to welcoming you to their café vélo, La Bonne Echappée, in March 2020.  Here you will be able to pick up a rental bike, tips for exploring the local area and a delicious lunch!
Claire and Philippe have a shared love of cycling, the outdoors, good food and all things triathlon.  Philippe used to race competitively and has run his own cycle tour company since 2007.  He has an impressive knowledge of the French, Spanish and Italian countryside and knows much of the Pyrenees like the back of his hand. For more information on cycling and wine tours in France, head over to our sister site.